PlanHub Launches Its Free Personalized Alerts for Residential Internet
PlanHub is an innovative search engine offering the easiest way to compare mobile and internet plans in Canada.
Montreal, June 28, 2019 – PlanHub is launching its personalized alerts for residential Internet just in time for the summer moving period, the perfect time to make the most of the many discounts Internet service providers are offering. Thanks to this new system, registered consumers get an email alert the instant a great Internet plan matching their criteria becomes available on the market.
The best internet and cellphone deals are often hidden – deep within provider pages and often the result of a combination of promotions. This makes it hard for the average consumer to keep track and find. Leveraging its deep knowledge of past price trends, PlanHub has developed a state-of-the-art algorithm that tracks prices and identifies the best deals on Internet and cellular service provider plans in the Canadian market – be they hidden or available as extremely short-term promotions.
Three simple questions on planhub.ca help consumers identify their needs and get access to all available plans that meet those needs. If no current offer appeals, consumers can register for the personalized alert system so that they are notified as soon as a new relevant offer becomes available.
"Our system only sends an alert when a new plan becomes available that corresponds exactly to what the consumer is looking for and offers a substantial saving. Subscribers will not receive multiple emails that will clutter their inbox unnecessarily," says Nadir Marcos, CEO and Co-Founder of PlanHub.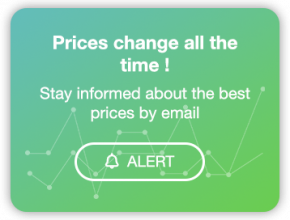 "A disconcerting number of residential Internet providers and plans are available in Quebec at some of the highest prices in the world. Consumers are constantly bombarded with ads that seem appealing because competition is very fierce," adds Marcos. "At PlanHub, we've banked three years of price history for the Canadian market. Since prices change very quickly, we've developed a customized alert system that allows us to notify consumers as soon as a favourable plan becomes available. Thanks to our system, subscribers no longer need to track all the ads or waste their time shopping around; if a plan of interest to them becomes available, we'll know about it and notify them instantly."
In 2017, PlanHub launched a similar alert system for cellphone plans, which achieved immediate success. With knowledge of the market prices and offers available from various suppliers in hand, consumers can shop smarter, better choose their plans and negotiate based on strong arguments with their current supplier since the market is very competitive.
Extremely easy to use and fully customized, PlanHub's cellphone and residential Internet plan alert systems and platform are free and effective tools that help consumers make sense of what's available and choose the best from the host of providers and plans available on the market. Eventually, by knowing exactly what consumers are looking for, PlanHub will be able to negotiate "wholesale" plans directly with suppliers and obtain very advantageous prices for its users.
Sign up for PlanHub: https://www.planhub.ca/internet-alert
About PlanHub
Based in Montreal, PlanHub offers an easy-to-use, efficient and free tool to compare cellular and Internet service provider plans across Canada. The database is updated continuously and helps consumers make the best choice by matching offers to their real needs. PlanHub also offers a personalized alert system that informs consumers when a cellphone or residential Internet plan that meets their needs becomes available on the market. PlanHub is here to make your life easier and save you both time and money! www.planhub.ca
For information:
Nadir Marcos
CEO and Co-Founder
PlanHub
[email protected]
514-952-7325