The best deals on Pixel 4a in Canada
Looking for the best deals on Pixel 4a? You've come to the right place. Finding a good deal on a device you want is not easy. There's multiple things to consider - upfront payment vs monthly installments, BYOD vs device financing, to 5G or not to 5G and which carrier and data amount to choose. And all this also depends upon which province you live in.
To make this choice easy for you, we have taken a detailed look, not just at the specs, reviews and pro and cons of the Pixel 4a but also at all the deals currently on offer for Pixel 4a in Canada to help you make the most informed decision.
Features
| | |
| --- | --- |
| Screen Size: | 5.8" (OLED) |
| Screen Resolution: | 1080 x 2340 at 443 ppi |
| Camera: | 12.2 MP wide rear camera and 8 MP front camera |
| Operating System: | Android |
| RAM memory: | 6 GB |
Summary
The Google Pixel 4a is one of the most recommendable phones of 2020
Release date
August 4, 2020
A successor to the very popular Google Pixel 3a, the Pixel 4a does even better at the things the Pixel 'a' line-up has become known for. Costing a very reasonable $479, it is in fact $70 cheaper than the still available Pixel 3a! Boasting class leading cameras, 6GB of RAM and 128GB of storage for the base configuration and an OLED display, the Google Pixel 4a is one of the most recommendable phones of 2020
Best value for money: A sleek, nearly bezel-less design with a punch-hole camera in the front and a 12.2 MP industry-leading rear camera, a fast UI and ample RAM and storage, the Pixel 4a is the budget phone pick of the year.
Good battery life: One of the major complaints against even the flagship Pixel 4 was its less than impressive battery life. That has been fixed in the Pixel 4a which has all day battery life.
Clean Android UI with no bloatware: Most premium Android manufacturers ship phones with a lot of bloatware. Not surprisingly, Google's android is the cleanest version and one guaranteed to get software updates for at least 3 years.
Fantastic Cameras: Pixel phones have been known for their camera technologies and the Pixel 4a is no different. Video, as well as photos, from both its cameras, offer industry-leading performance in daylight and lowlight.
Physical fingerprint sensor and a headphone jack: Two very useful features that will make some users very happy.
Snapdragon 730G: Android phones usually use Qualcomm's Snapdragon chips and flagships phones often use the powerful Snapdragon 855+ chips. The Pixel 4a however uses the mid-range Snapdragon 730G. That said, from all reviews and real-world tests on the phone so far, it looks like the phone is not noticeably held back by its processor which is still very fast.
Lacks premium features like wireless charging and IP water resistance rating: These are the sort of necessary trade-offs that come with a mid-range phone.
Available in only one colour: The Pixel 4a is only available in black. So you can pick any colour you want, as long as it is black.
Pixel 4a prices by provider (device only)
If you want to compare the price of the Pixel 4a without considering any related phone plan, you've come to the right place. Just select your preferred provider from the options below, and you'll be taken to a page with all the details you need. It will show you the monthly cost, upfront payment, and total payment over two years, with all the different prices according to each Canadian province.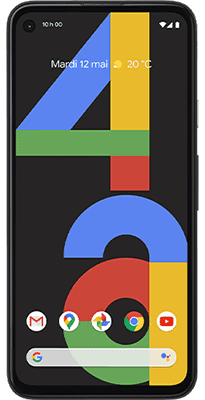 The best plans for Pixel 4a for each province
Similar phones