The best deals on Huawei P20 in Canada
Looking for the best deals on Huawei P20? You've come to the right place. Finding a good deal on a device you want is not easy. There's multiple things to consider - upfront payment vs monthly installments, BYOD vs device financing, to 5G or not to 5G and which carrier and data amount to choose. And all this also depends upon which province you live in.
To make this choice easy for you, we have taken a detailed look, not just at the specs, reviews and pro and cons of the Huawei P20 but also at all the deals currently on offer for Huawei P20 in Canada to help you make the most informed decision.
Features
| | |
| --- | --- |
| Screen Size: | 5.8" |
| Screen Resolution: | 1080 x 2240 |
| Camera: | 12MP and 20MP wide angle on the rear, 24MP wide angle on the front |
| Operating System: | Android |
| RAM memory: | 6 GB |
Summary
The P20 is a slightly inferior version to the P20 Pro. With slightly weaker specs and camera performance, it remains an impressive phone, especially if you can get it at a good price.
Release date
March 27, 2018
Huawei's P20 has slightly downgraded specs compared to the P20 Pro. The phone itself is slightly smaller, and runs off fewer RAM memory. Additionally, the camera quality is slightly worse. If you don't really care about having the latest phone with the greatest specs and camera, the P20 may be a better choice for you, especially if you can get it for much less than the Pro.
Camera: Despite the capabilities of other smartphones, the P20 still provides a very strong camera years after its release.
Aesthetics: The P20 is one of Huawei's prettiest phones. From its design to its display, it's a truly impressive phone to look at.
Comparison: The P20 is a solid phone, but its greatest weakness is its superior counterpart, the P20 Pro. Since both devices were released at the same time, it's hard not to look at the Pro with envy when you have the base model.
Huawei P20 prices by provider (device only)
If you want to compare the price of the Huawei P20 without considering any related phone plan, you've come to the right place. Just select your preferred provider from the options below, and you'll be taken to a page with all the details you need. It will show you the monthly cost, upfront payment, and total payment over two years, with all the different prices according to each Canadian province.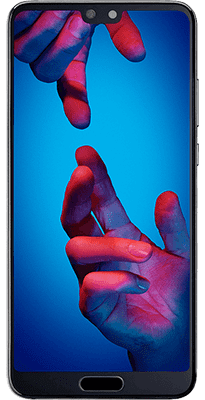 The best plans for Huawei P20 for each province