The best deals on Nokia 3.4 in Canada
Looking for the best deals on Nokia 3.4? You've come to the right place. Finding a good deal on a device you want is not easy. There's multiple things to consider - upfront payment vs monthly installments, BYOD vs device financing, to 5G or not to 5G and which carrier and data amount to choose. And all this also depends upon which province you live in.
To make this choice easy for you, we have taken a detailed look, not just at the specs, reviews and pro and cons of the Nokia 3.4 but also at all the deals currently on offer for Nokia 3.4 in Canada to help you make the most informed decision.
Features
| | |
| --- | --- |
| Screen Size: | 6.39" |
| Screen Resolution: | 720 x 1560 |
| Camera: | 13MP wide, 5MP ultrawide and 2MP depth on the rear, with an 8MP selfie camera |
| Operating System: | Android |
| RAM memory: | 4 GB |
Summary
The 3.4 is Nokia's attempt at introducing an affordable phone with above-average performance. While it delivers in some regards, it falls flat in others.
Release date
September 22, 2020
For a phone released in 2020, the 3.4 contains several specs that are simply behind. Its design, storage, performance and cameras are all lacking, even at its discounted price.
Price: For a bit under $300, the Nokia 3.4 does offer many luxuries of a smartphone, and may be appealing to new users.
Battery: For a budget phone, the 3.4 includes a 4000 mAh battery, which lasts around a day.
Charging: Despite the phone's large battery, its charging is very slow, and takes around 30 minutes for every 15%.
Specs and design: This phone really struggles with its performance and appearance. The ring on the back with all the cameras in a triangle looks very odd. More importantly, the phone really struggles with its performance, making it hard to justify purchasing a new one given the abundance of more powerful choices.
Nokia 3.4 prices by provider (device only)
If you want to compare the price of the Nokia 3.4 without considering any related phone plan, you've come to the right place. Just select your preferred provider from the options below, and you'll be taken to a page with all the details you need. It will show you the monthly cost, upfront payment, and total payment over two years, with all the different prices according to each Canadian province.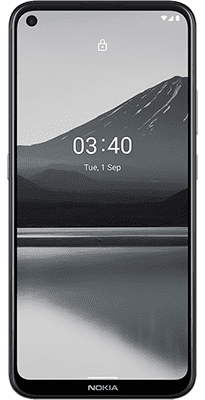 The best plans for Nokia 3.4 for each province
Similar phones